Search Engine Optimization (SEO) has become a critical component of any business's digital marketing strategy. It is no longer enough to simply have a website; it must be optimized for search engines to ensure that potential customers can find it. This is where SEO agencies come in, providing expert guidance and support to help businesses improve their online visibility.
Long Island, New York, home to over 7.8 million people, offers an abundance of opportunities for businesses looking to make their mark in the digital world. With so many companies vying for attention online, finding the right SEO agency can be the key to success.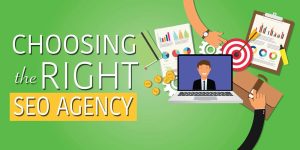 Benefits Of Working With A Local Agency
Working with a local agency has several benefits when it comes to SEO. 
Firstly, they have an in-depth understanding of the area and its businesses. This means that they can tailor their strategies to suit the unique needs of Long Island's market, giving clients a competitive edge.

Secondly, local agencies are more accessible than larger national or international firms. Face-to-face meetings with clients are easier to schedule and attend, which means that communication is often faster and more efficient. Unlike larger companies who may prioritize higher-paying clients over smaller ones, local agencies tend to focus on providing personalized service to all of their clients.

Finally, working with a local agency helps support the community. By choosing a Long Island-based SEO agency, businesses contribute toward growing the local economy and creating jobs within their own community. Overall, collaborating with a nearby agency can be beneficial in terms of strategy development, communication convenience, and supporting the growth of one's own community.
Top SEO agencies in Long Island
Thrive International Marketing
Thrive International Marketing is a digital marketing agency that offers a wide range of services to businesses looking to improve their online presence. They specialize in search engine optimization (SEO), pay-per-click advertising (PPC), social media management, and website design and development. Located on Long Island, Thrive International Marketing has worked with businesses of all sizes from various industries to help them reach their target audience and achieve their marketing goals.
Their team of experts stays up-to-date with the latest trends and developments in the industry to provide clients with effective strategies that deliver results. 

Their SEO services include keyword research, on-page optimization, link building, and content creation to help websites rank higher in search engine results pages (SERPs). They also offer PPC advertising services through platforms like Google Ads and Facebook Ads to drive targeted traffic to websites.

In addition to these core services, Thrive International Marketing also provides comprehensive analytics tracking and reporting so clients can see the impact of their campaigns. 
Overall, if you are looking for a reliable digital marketing agency on Long Island that can help your business thrive in today's competitive landscape, Thrive International Marketing may be worth considering.
New Sun SEO
New Sun SEO is one of the leading SEO agencies in Long Island that provides a range of digital marketing services to businesses of all sizes. With a team of experienced professionals, the agency specializes in creating customized SEO strategies that help businesses improve their online visibility and drive more traffic to their websites.
Approach
The agency's approach to SEO involves a combination of technical optimization, content creation, and link building. They work closely with clients to understand their business goals and target audiences, and then develop strategies that are tailored to meet those objectives. Their focus on data-driven insights ensures that they are able to continually refine their strategies based on performance metrics.
Services Offered
In addition to SEO services, New Sun also offers social media marketing, PPC advertising, email marketing, and web design services. By providing a comprehensive suite of digital marketing solutions under one roof, they help businesses streamline their online efforts and achieve greater success in today's competitive digital landscape.
First Page Sage
First Page Sage is a well-known SEO agency in Long Island, New York that has been providing top-notch digital marketing services to businesses of all sizes for many years. They are known for their expertise in search engine optimization, social media marketing, content creation, and PPC advertising. 
One of the things that sets them apart from other agencies is their commitment to creating custom-tailored strategies for clients based on their unique needs and goals.

The team at First Page Sage takes a comprehensive approach to SEO, starting with an in-depth analysis of each client's website and online presence. From there, they develop a customized plan that includes targeted keywords, optimized content, link-building strategies, and more. They also stay up-to-date with the latest trends and algorithm updates from search engines like Google to ensure that their clients' websites remain visible and competitive.
Overall, if you're looking for a reliable SEO agency in Long Island that can help you improve your online visibility and drive more traffic to your website, First Page Sage is definitely worth considering. With their proven track record of success and dedication to delivering high-quality results, they can help take your business to the next level in no time.
Hozio
Hozio is a full-service digital marketing agency that specializes in search engine optimization (SEO) for businesses based on Long Island. With over 10 years of experience in the industry, Hozio has established itself as a leading SEO agency in Long Island, providing tailored solutions to meet the unique needs of each client.
The team at Hozio includes experts in SEO strategy, content creation, web design and development, social media management and paid advertising. By combining these skills with cutting-edge technology and data-driven insights, they are able to create effective campaigns that drive traffic and increase conversions for their clients.

One of the key factors that sets Hozio apart from other SEO agencies on Long Island is its commitment to transparency and communication. They provide regular reports and updates to their clients so they can track progress and see tangible results. With a focus on customer service and attention to detail, Hozio is dedicated to helping businesses succeed online through customized SEO strategies that deliver measurable results.
How To Choose The Best Agency For Your Business
When it comes to choosing the best SEO agency for your business in Long Island, there are several factors that you need to consider. 
Firstly, make sure that the agency has a proven track record of success in improving search engine rankings and driving traffic to their clients' websites. Check their portfolio and case studies to see how they have helped other businesses achieve their goals.

Secondly, consider the experience and expertise of the agency's team. Look for an agency that has a team of experienced SEO specialists who stay up-to-date with the latest trends and best practices in the industry. They should also be able to customize their approach based on your specific business needs and target audience.

Finally, don't forget about communication and transparency. The best SEO agencies will keep you informed throughout every step of your campaign, providing regular reports and updates on progress. They should also be transparent about their methods and strategies, so you can be confident that everything they do is ethical and above board. 
By considering these factors when choosing an SEO agency for your business in Long Island, you can ensure that you find a partner who can help take your online presence to new heights.
Future Trends In SEO For Long Island Businesses
The world of SEO is constantly evolving, and Long Island businesses need to stay on top of the latest trends and technologies to remain competitive. 
One trend that has been gaining traction in recent years is voice search optimization. As more people use smart speakers like Amazon Echo or Google Home to search for information, businesses will need to optimize their content for these devices.

Another trend that is likely to impact SEO for Long Island businesses is the rise of artificial intelligence (AI). With machine learning algorithms becoming more advanced, AI can help businesses analyze data and identify patterns that can be used to improve their SEO strategies. This could include everything from optimizing content for specific keywords to identifying user behavior patterns that indicate which pages are most valuable.

Finally, as mobile usage continues to grow, it's becoming increasingly important for businesses to focus on mobile-first design. This means creating websites and content that are optimized specifically for mobile devices. By using responsive design techniques and focusing on fast load times, Long Island businesses can ensure that their websites are accessible and easy-to-use on any device, which can help improve their search engine rankings over time.
Conclusion
In the digital age, having a strong online presence is crucial for businesses to succeed. However, with millions of websites on the internet, it can be challenging to stand out and reach your target audience. This is where SEO agencies in Long Island come in – by partnering with these agencies, businesses can improve their search engine rankings and increase their visibility online.
SEO agencies have the expertise and knowledge to optimize your website for search engines. They use a variety of techniques such as keyword research, content creation, link building, and technical optimization to improve your website's rankings on search engine results pages (SERPs). By improving your search engine ranking, you'll attract more traffic to your website which ultimately leads to more conversions and revenue.
Partnering with an SEO agency also saves time and resources for businesses. Instead of trying different strategies themselves, which may or may not work effectively in the long run – outsourcing this task will ensure that they are working towards achieving optimized results while allowing business owners to focus on other important aspects of their operations. With all these benefits in mind it's clear why partnering with an SEO agency is essential for online success.
We offer Website Design and SEO Services in the Following Areas:
Georgetown | milton | Aurora | Bolton | axja | pickering | brampton | richmond | Mississauga  vaughan | scarborough | etobicoke | markham | oakville